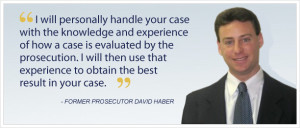 Former Assistant District Attorney
Over 10 Years of Legal Experience:
When you are working through the legal system, few things are more important than finding a lawyer who has experience handling cases similar to yours. When you contact the Law Offices of David W. Haber, that is what you will receive. Attorney David Haber spent more than five years as a prosecutor in the Nassau County District Attorney Office. During that time he handled hundreds of jury trials, bench trials, grand jury presentments and pre-trial hearings. Accordingly, he understands how the case will likely be handled by the prosecution.
The Law Offices Of David Haber represents clients who are facing criminal charges such as DWI and DUI throughout Nassau and Suffolk counties as well as the five Boroughs- Bronx, Queens, Brooklyn, Manhattan and Staten Island. Schedule your free initial consultation by contacting us online or by calling 516-367-2264.
David W. Haber began his legal career as an Assistant District Attorney in the Nassau County District Attorney's Office. As an A.D.A., he successfully litigated hundreds of Misdemeanor and Felony jury trials, bench trials, and Grand Jury presentments. He successfully prosecuting tens of thousands of criminal cases, including Criminal Possession of a Weapon, Assault, DWI, Possession and Sale of a Controlled Substance, Suspended License, Forgery, Burglary, Fraud, Robbery, Grand Larceny and Petit Larceny.
In 2003, he joined a civil litigation firm litigating negligence cases ranging from Motor Vehicle/Motorcycle Accidents, Product Liability, Medical Malpractice, Wrongful Death, Trip/Slip and Fall, and Premises liability.
In February of 2006, David Haber opened his Woodbury office, concentrating in Criminal Defense and Plaintiff's Personal Injury matters. From Arraignment to Trial (if necessary), former prosecutor David Haber will personally handle your criminal matter.
Criminal Defense
David Haber handles Criminal Defense matters ranging from Murder to Traffic Infractions, inclusive of all felonies, misdemeanors and violations, in Nassau County's Mineola, Hempstead and Traffic Courts, Suffolk County's Riverhead, Central Islip and Traffic Courts, as well as Queens, Brooklyn and New York City. If you or someone you know has been arrested, or needs experienced legal advice, contact the Law Offices of David W. Haber for immediate assistance.
DWI
David Haber specializes in cases where people are accused of Driving While Intoxicated (DWI/DWAI) and/or Under the Influence of Drugs. David Haber uses his experience as a former prosecutor to best defend his clients. Persons charged with DWI face sentence possibilities including jail, probation, license revocation or suspension, fines, ignition interlock and community service.
Aggravated Unlicensed Operation of a Motor Vehicle
David Haber has handled thousands of cases where people are accused of operating a motor vehicle while their license or privileges had been suspended or revoked. It is important to note that in New York, driving with a suspended license, known as Aggravated Unlicensed Operation of a Motor Vehicle, is a misdemeanor crime.
Traffic
David Haber also utilizes his extensive experience to handle and negotiate all types of Traffic matters. Moving violations, such as Speeding, and non-moving violations, if not addressed and resolved, may lead to a person's license being suspended, high fines and an increase in insurance rates.
Areas of Practice
All areas of criminal law, with a focus on DWI
Litigation Percentage
90% of Practice Devoted to Litigation
Bar Admissions
Education
Hofstra University School of Law, Hempstead, New YorkJ.D.
Honors: National Trial Competition Team
Long Island University – C.W. Post College, Brookeville, New York
B.A. – 1995Major: Criminal Justice
Classes/Seminars
Trial Advocacy, National Institute, 2002
Professional Associations and Memberships
Huntington Lawyers Group, Member, 2006 – Present
Former Assistant District Attorneys, Member, 2006 – Present
Past Employment Positions
Nassau County District Attorney's Office, Assistant District Attorney, 1998 – 2003
O'Connor, O'Connor, Hintz & Deveney, LLP, Associate Attorney, 2003 – 2006
Languages
Fraternities
Zeta Beta Tau
Tau Epsilon Phi