Construction Site Accidents |  Injuries that are Height/Elevation Related
At the Law Offices of William Cafaro, we understand the hazards that are frequently found on jobsites, and how seriously you can be hurt.
If you get hurt, who will pay the mortgage and put groceries on the table?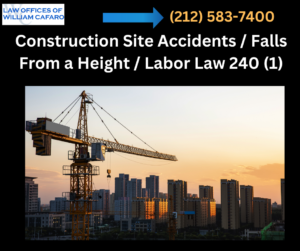 The Scaffold Law, § 240(1) of the Labor Law, generally requires owners and contractors to provide enough protection to men working at heights so they will not fall. When a worker falls from a height and is injured, this law often places complete responsibility for the accident on the owners and the contractors, even if the accident wasn't their fault. This is because they usually have both the absolute right and the ultimate responsibility to tell everyone on the job what to do to make sure that enough protection is given to men working at heights.
Call Bill Cafaro if you have any construction site accidents/falls from a height/Labor Law 240(1). (212) 583-7400.
https://cafaroverdicts.com/construction-site-accidents-falls-from-height/