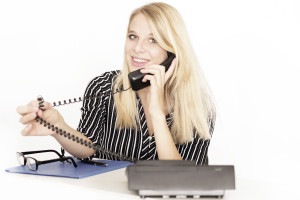 As an employer, you may wonder where to draw the lines as far as monitoring employees' phone calls at work. Certainly for quality control purposes, it makes sense to monitor calls with customers or clients. But how do laws limit what you can do?
If the call is made while in California and all parties are in California at the time, then CA state law requires you to inform parties when conversations are being recorded. Let's say as a NY employer, you send a team of sales people to attend a conference in California. You would need to inform them that you're monitoring calls based on CA state law.
According to Privacy Rights Clearinghouse, federal law under the Electronic Communications Privacy Act allows companies to monitor business-related calls without informing about monitoring. ReadMore
What about personal calls? Read More
At Stephen Hans & Associates, our attorneys routinely consult with business owners to help put company policies in place so they are in compliance with state and federal laws. Relying on trusted legal guidance is simply part of doing business in today's world.
Author: Stephen D.Hans & Associates-Employment Defense Law firm located in LIC Queens, New York